Windmill on the Hill gave me the Life is Grand award. Thank you very much Windmill!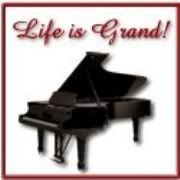 I am supposed to list 5 reasons why life is grand and here it goes:
1. Blessed with a second life after a car accident.
2. Despite the economic crisis I am blessed with a stable job.
3. Everybody in the family has been fairly healthy.
4. Offline and online opportunities are coming.
5. I am blessed with a loving and supportive parents.
I think this award is for everybody so i hope you guys grab it. Happy weekend!
^_^