While the punk culture thrives on nonconformity, there are certain looks that are sure to identify you to like-minded anarchists. Here are just five tips for being a better-dressed punk.

1. Plaid
Plaid is worn by punks of all ages, genders and income levels. It's the great equalizer of the fashion industry, and it will go with almost everything in your closet to boot.
2. Black Boots
Forget about little black dresses. Little black boots are where it's at, especially when paired with colorful laces or accentuated with extra zippers and buckles.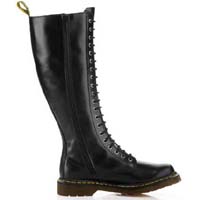 3. Bondage Straps
Bondage straps fell out of fashion a few years ago, but they're steadily making a comeback with the newest generation. Go ahead and try on a few to see if you like the way they look.
4. Rainbow
It may not sound like a very punk thing, but rainbow colors are increasingly worn by young people as an expression of irony. They also signify a certain level of uncaring indifference as to what everyone else thinks.
5. Hoodies
Hoodies are worn by punks both young and old. They can also be customized in just about every way imaginable, so they're a popular talking piece when printed with graphics and pop culture references.
These are just a few tips for dressing in authentic punk style. You can also mix, match and experiment with everything you've just read to come up with your own signature look.
Shop today
for style tomorrow.